On Thursday, March 13th, the UT Tyler Parliamentary Debate Team traveled to Northern Arizona University in Flagstaff, Arizona, for our national tournaments: the National Parliamentary Tournament of Excellence, and the National Parliamentary Debate Association Championship Tournament. The trip lasted 11 days, consisting of 6 days of competition over both tournaments.
Carver
will be writing about the NPTE later this week, and I will be writing about the NPDA Championship Tournament.
The NPDA is often called "The People's Tournament," primarily stemming from it's sheer entry size and the propensity for underdogs to go very far in elimination rounds. The tournament consisted of over 150 teams from 52 different schools. There were eight preliminary rounds, followed by six elimination rounds, consisting of teams that had at least a 5-3 record in their prelim rounds.
UT Tyler FH
UT Tyler had three teams competing in the NPDA this year: UT Tyler FH (Dallas Flick and Carver Hodgkiss), UT Tyler DH (Kaleb Drake and Steven Hullum), and UT Tyler BC (Caitlin Bull and Sam Cook). UT Tyler FH is a junior-sophomore team, DH is a freshman-freshman team, and BC is a sophomore-freshman team.
After a rigorous set of preliminary rounds for all three teams, FH finished 6-2 to take the 18th seed in elimination rounds, BC finished 5-3 to take the 29th seed, and DH finished 5-3 to take the 33rd seed. It was a fantastic accomplishment to have all three teams break to elimination rounds, given the massive amount of competition at the tournament, as well as the relatively young nature of the teams that were competing for UT Tyler.
In the first elimination round, triple octo-finals, the resolution was "The United States Federal Government should significantly reduce its corporate tax rate." FH was affirmative against Texas Tech RR, BC was negative against Lewis & Clark GP, and DH was negative against Northern Arizona University RS. FH won their round on a 3-0, BC won on a 2-1, and DH lost in a very close round on a 2-1 decision. Carver and I are especially proud of Steven Hullum and Kaleb Drake for their performance at this tournament, seeing as they were two freshman who only debated together for three tournaments, including both national tournaments.
The second elimination round, double octo-finals, had the resolution "The United States Federal Government should significantly increase restrictions on domestic use of unpiloted aerial vehicles in U.S. airspace." FH was negative against Washburn KM, and BC was affirmative against Western Washington HT. Both teams were eliminated in this round: FH on a 3-2 loss, and BC on a 4-1.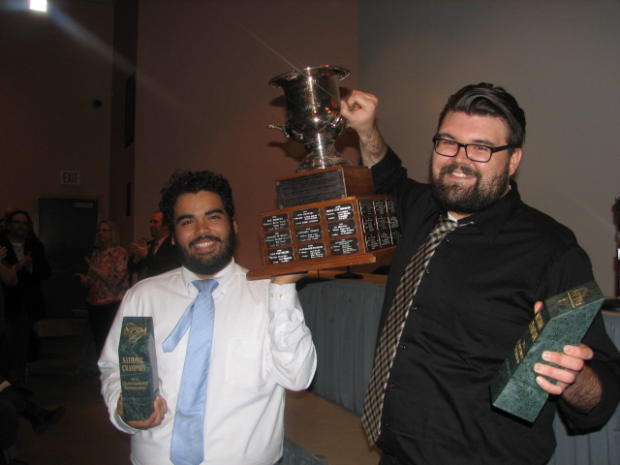 NPDA National Champions
from SIU, Josh Rivera and Ben Campbell
Despite losing in elimination rounds sooner than desired, all three teams competed very well at one of the toughest tournaments of the year. The team took 11th overall in tournament sweepstakes for the NPDA National Championship, and Caitlin Bull and Sam Cook won 10th and 7th Top Speaker Awards for the tournament, respectively. The tournament champions were Josh Rivera and Ben Campbell from Southern Illinois University, the school who won both the NPDA and NPTE championships in the 2012-2013 season.
Next year will be even better for UT Tyler Debate! If you want to have a better look at how the tournament played out over the three days of competition, you can see individual round results and
cumulative results
at
parlitournament.com
. There will also be videos uploaded on
net-benefits.net
from individual rounds in the NPTE and NPDA tournaments very soon. Support the UT Tyler Parliamentary Team in the 2014-2015 season!