What do
The Hunger Games
and Christmas have in common? One is a fight to the death between children ages 12-18 and the other is a religious holiday that has been transformed and reclaimed to be celebrate family with gifts and food.
Tablet shopping, nbd.
Black Friday shopping
. The day after Thanksgiving that marks the beginning of the Christmas shopping season for retailers and families looking to fulfill wishlists of their relatives. The term in that sense was first coined in Philadelphia.
Police officers, frustrated by the congestion caused by shoppers on the day,

started referring to it

derisively as "Black Friday".

Unsurprisingly, retailers weren't happy to be associated with traffic and smog.

So they tried to rebrand the day "Big Friday", according to a 1961

local Philadelphia paper

.

Needless to say, the term didn't stick. (x)
Black Friday became a term used by all of America in the 1990s to refer to this frenzy, but according to that same article cited above, the biggest day of Christmas shopping was the Saturday before up until the 2000s and Black Friday took the title.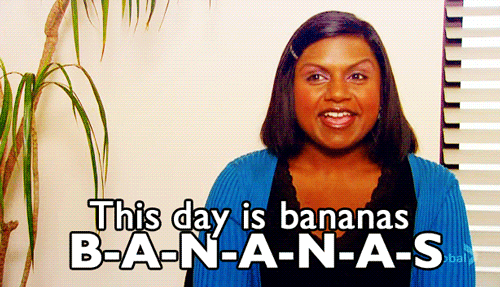 Black Friday shopping has gotten so out of hand, a
website has kept track of the deaths and injuries
caused by the day's activities: this year, one death and 15 injured (the person didn't die
because
of the shopping mayhem, but fell asleep at the wheel after shopping). The site might be a little morbid, but it just raises awareness about being more careful when partaking in this activity and not acting like this:
While there's nothing inherently wrong with wanting to get good deals on your Christmas gifts, it gets a little out of hand when
people
get
violent
and/or when you have to opt out of a Thanksgiving dinner in order to stand in line for something that won't be guaranteed to be there.
With that being said, there's still a big Christmas shopping frenzy happening all around (basically all the retail stores are hiring temporary employees for the holidays) and you can totally avoid getting stuck in a sea of people!
Shop online
You can stay in bed, in your pjs, eating food and get the things you want for your loved ones.
Cyber Monday
is a big hit for people like me that would much rather just stay at home. If you're worried that you missed all the sales, you can still find gifts at great prices and get the added bonus of discount codes (I use
Retail Me Not
)
Start early
Americans are apparently really good a procrastinating Christmas shopping as both Black Friday and the Saturday before Christmas are two of the biggest shopping days.
In years past, stores have had a robust start to the season by offering deep discounts only to see crowds disappear until the final days before Christmas when the big bargains pop up again (x).
So while you're freaking out, wondering what in the glob to get your dad, you can also think about starting early next year. When you get any downtime, put yourself in the other person's shoes and think about what they've been saying they want (or need). Then, you can be on the lookout for any low prices on what it is.
Make your own gifts
I'm not particularly crafty, but I know that sometimes, handmade gifts will end up being the best gifts you can give and receive. Put on your safety goggles and make a
pinterest
account so you can start getting those hands ready for your hard labor.
There's no need for violence when Christmas shopping and there's no need to push and shove someone out of the way at the mall. If you participated in Black Friday shopping, I hope you stayed warm and stayed safe (and saved lots of money
to get a gift for me
). If you didn't, you should do something about that shopping list that's sitting on your counter that you haven't been looking at for the past few weeks (yes, I know you have one).
I hope you found this helpful and let me know what you're doing to beat the crowds (and any cool stuff you found while shopping)!
Happy Holidays!